What is Agile Budgeting?
One of the hallmarks of effective agile development teams is that they don't work in a vacuum. They are continually interacting with other functions in the broader organizational ecosystem, including Finance. Typically in the realm of budgeting, cross-functional interactions relate to flows of money, approvals, examining variances from initial estimates, and more. In an agile organization, however, the goal is to achieve Business Agility – that is, the ability to discover obstacles and opportunities, to react as quickly as possible, and to produce positive outcomes. All the functions that interact with development must be aligned and working toward the common goal of sustainably delivering value of high quality that delights the customer in the shortest possible time. Without that, the development team and the firm as a whole will be unable to deliver effectively.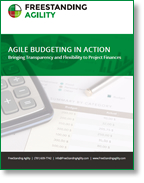 Download our white paper "Agile Budgeting in Action" to find out:
What powers the agile budgeting mindset?
What can organizations gain from agile budgeting?
What did a company learn when they aligned their project finances with their agile frameworks?
Simply submit our online form and we'll send you a copy by email.