Have you noticed the explosion of agile certifications? You can be certified for just about any role associated with agile including leadership. Here's some of the alphabet soup that is available: CSM, CSPO, CSD, CAL, PSPO, PSM,PSD,etc. There are also certifications for the emerging scaling frameworks, e.g. SAFe® has SA, SPC; Nexus™ has SPS. What does it all mean?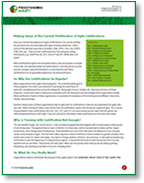 Download "Making Sense of All the Agile Certifications" to find out:
Why are certifications so popular?
Why is certification not enough?
What do you really need?
Simply submit our online form and we'll send you a copy by email.