Managing Conflict on Agile Teams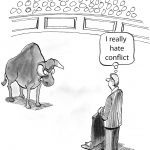 "Going Agile" has helped thousands of workplaces transform teams to become self-directed, more engaged and highly productive. Knowledge workers report increased job satisfaction and strong team identity and camaraderie.  One of the secrets of high performing teams is their ability to process conflict in ways that support team unity, deepen trust and reinforce commitment to the team being great.
Agile practices value individuals and interactions over processes and tools.  Sounds great on paper!  How do you live that?  How do you work effectively with "difficult people" whether they are teammates, your boss, and/or stakeholders in your project?
Attend this class if you want to learn how to address conflict and strengthen your team's effectiveness.  You'll learn more about your EI (Emotional Intelligence) and implications of the new brain science for how to handle conflict. You will explore practical examples of how to increase your influence in various Agile communication scenarios including:
Scrum Master (SM) communicating with those OUTSIDE the Scrum team. Learn SM techniques for speaking in language that can more quickly get agreement from others to help remove obstacles in the way of the team.
Scrum Master (SM) communicating with those INSIDE the Scrum team. Learn SM techniques for speaking in language that can more quickly communicate to the Product Owner about how to foster higher levels of team self-organization and related productivity.
Processing disagreement: Team members communicating with each other about differences. Learn ways to develop standard conflict processing protocols inside the team. The ability to process differences and navigate conflict is one of the hallmarks of fantastic, great teams.
Product Owner (PO) communicating with stakeholders who have competing interests.  Learn how to understand their demands as requests, and how you can build on these to gain their support and increase trust.
Among other things, this hands-on class provides participants:
A simple four-step protocol for managing conflict
Effective ways to approach difficult topics with challenging people
The ability to understand what's at the core of disagreement
Three key distinctions that shift an argument into a meaningful discussion
How to translate others' demands into do-able requests
How to transform anger (yours/theirs) into influence for change
This class is designed as a highly experiential lab and focused on practical applications for you at your job. There is some lecture for efficient sharing of core information, immediately followed by "practice".  As a participant, you will:
Practice in pairs
Work in small groups
Apply the learning to your real job situations
Help others with their sticky situations at work
Get support for your biggest challenge
This class will increase your ability to navigate your own conflicts and mediate conflict between others. You'll learn valuable tools for supporting your team's journey to greatness!
PMI credential holders, can earn 7.5 PDUs for attending this class.
Who Should Attend?
Anyone who wants to learn how to address conflict and strengthen your team's effectiveness.
Prerequisites:
Knowledge of Agile and Scrum fundamentals, attended a CSM or CPO class, or are currently a Scrum Master, Product Owner, Developer, or Stakeholder for a Scrum team.
Instructors:
The course instructors are from FreeStanding Agility, a team of Agile educators, trainers, and coaches with over 12 years of combined experience, coaching and/or training Agile teams in over 100 different organizations. LEARN MORE about the experts from FreeStanding Agility that teach this class.