Become a Visual Product Owner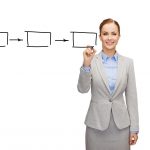 This advanced 1-day course is designed for anyone that wants to gain a deeper understanding of the skills needed to be an effective Product Owner. The class will provide the tools and techniques needed to increase engagement and apply visual problem solving to the challenges of aligning stakeholders, creating release plans, and managing the value trapped in the product backlog. After completing this class, you'll have a solid understanding of what your role as a Product Owner is, what it isn't, and the practices you need to do it well.
Here's a quick list of the topics the class will cover:
What is the role of Product Owner?
How do we get stakeholder alignment?
How do we discover and manage value?
How do we engage throughout the sprint?
How do we deliver value sustainably?
PMI credential holders, can earn 7.5 PDUs for attending this class.
Who Should Attend?
Anyone who is currently performing the role of Product Owner or is considering becoming a Product Owner.
Still Need Convincing?
Read what some students have said.
"Liked the use of real examples"
– Bob Cutillo
"Walked away with a lot of specific tactics to apply"
– Bill Fezzie
"Great for key stakeholders, POs, and Scrum Masters too."
– Cara Presseau
"Definitely worth taking."
– Bruce Barnhart
"Comprehensive presentation of PO roles and responsibilities. Focused and presented well."
– Suzie Attwood

Prerequisites:
Knowledge of Agile and Scrum fundamentals, attended a CPO class, or are currently performing the role of Product Owner.
Instructors:
The course instructors are from FreeStanding Agility, a team of Agile educators, trainers, and coaches with over 12 years of combined experience, coaching and/or training Agile teams in over 100 different organizations. LEARN MORE about the experts from FreeStanding Agility that teach this class.